A Life Lived In Love DVD
Elizabeth Clare Prophet Biography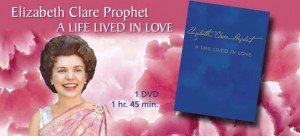 A Life Lived in Love DVD contains the biography of Elizabeth Clare Prophet (1939 – 2009) told in her words and in the words of the ascended masters.
Using archival videos and never-before-seen photos, this 1 hour and 45 minute DVD gives one a tremendous insight into the life of a true spiritual revolutionary.
The DVD also features 4 alternate language options: Voice-overs in Spanish, Russian, Portuguese and French.
Read the full story about Elizabeth Clare Prophet's biographical DVD on TSL.org.