Pearls of Wisdom® Online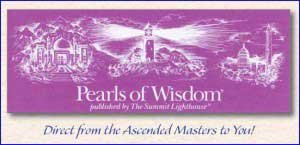 Pearls of Wisdom®, published by The Summit Lighthouse since 1958, contain authentic teachings of the Ascended Masters. More than mere information—they inspire deep soul-searching study. They help you make sense of yourself, your circumstances, the world we live in—and universes beyond.
Pearls of Wisdom® Available Formats:
Sign-up below for ePearls version of the current Pearls of Wisdom emailed monthly, or
A free 16 week Introductory Series ePearls by El Morya sent by email
Contact us to sign up for the paid subscription printed Pearls of Wisdom, sent by postal mail.
---